Tweet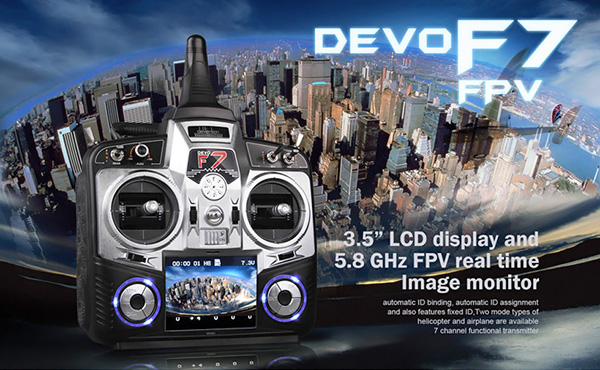 Devo F7 Transmitter Key Features:
The DEVO F7 adopts 2.4 GHz Direct Sequence Spread Spectrum (DSSS) technology and features automatic ID binding and ID assignment. It can also be customizedly set as fixed ID code.
5.8G real time image transmittion.
USB online update makes you always enjoy the latest firmware.
Adjustability of hi-frequency output power enjoys more personality and friendly environment.
Wireless data transmission between two DEVO F7 helps experience the training function.
Up to 15-model data can be saved.
DEVO F7 adjusting the gyro sensitivity makes hovering flight and fancy flight in an easy way.
Super large LCD display features direct and convenient setting.
Shape design accords with human engineering and provides comfortable holding.
Both the length and tension of the sticks can be adjustable.
DEVO F7 can be freely switched among Modes 1, 2,3,and 4
DEVO F7 support Helicopter and Airplane. The Helicopter mode provides three flight modes, each of which can be freely set and its parameters can be personalizedly adjusted to meet the requirement for F3C or 3D aerobatic flight.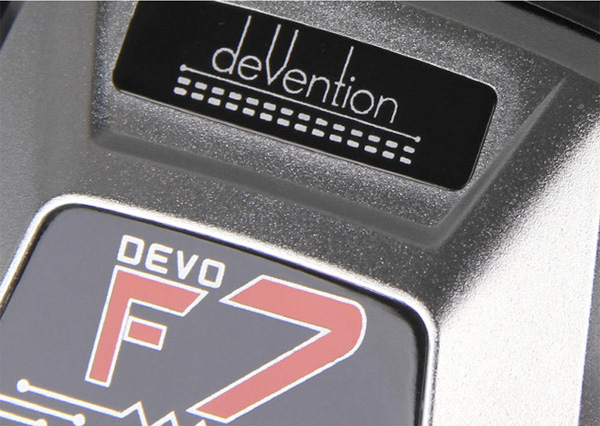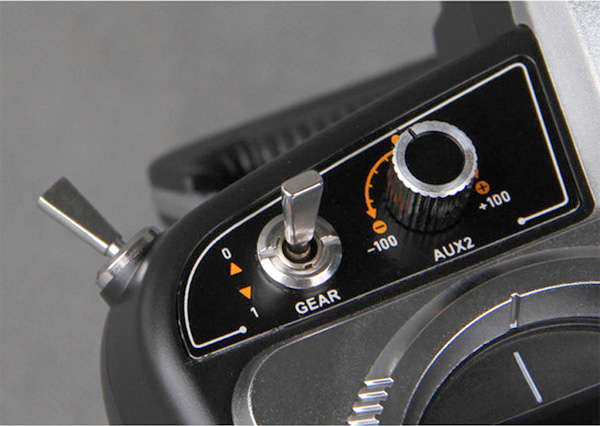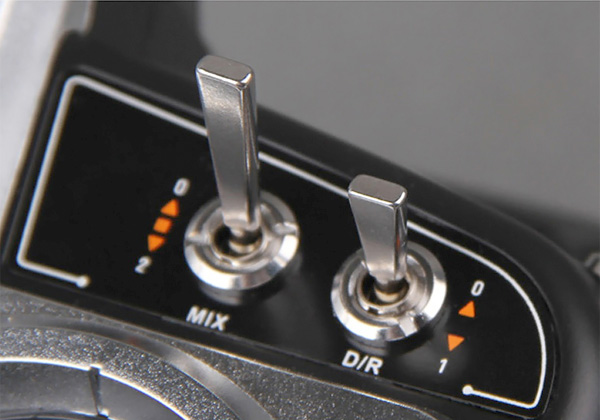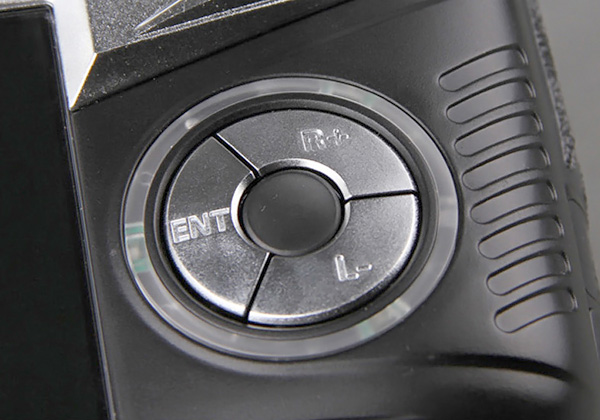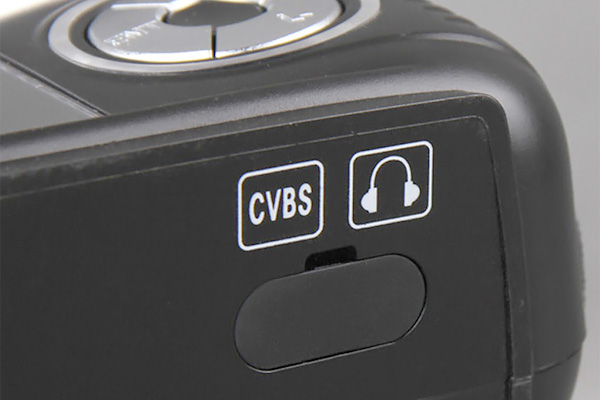 SPECIFICATION
Encoder: 7-channel micro computer system
Frequency: 2.4GHz DSSS
Output power:≤100mW
Current drain: ≤500mA(100mWh)
Transmitter power supply: 7.4V800mAh
Output pulse: 1000—2000Ms(1500 Neutral)
Image receiving:5.8G
Channel selection: 8 channel
Statement about the range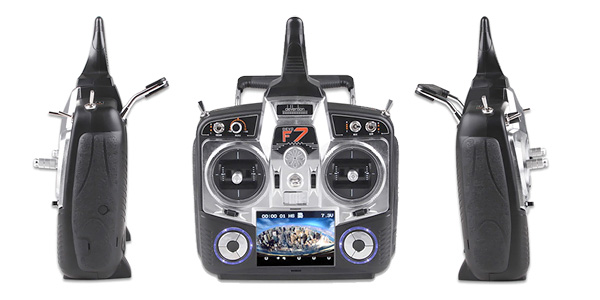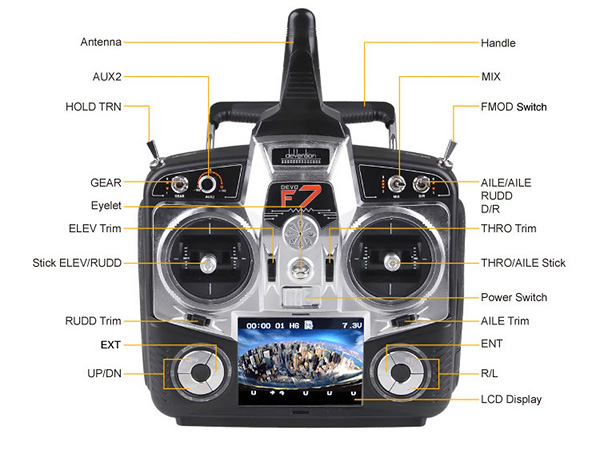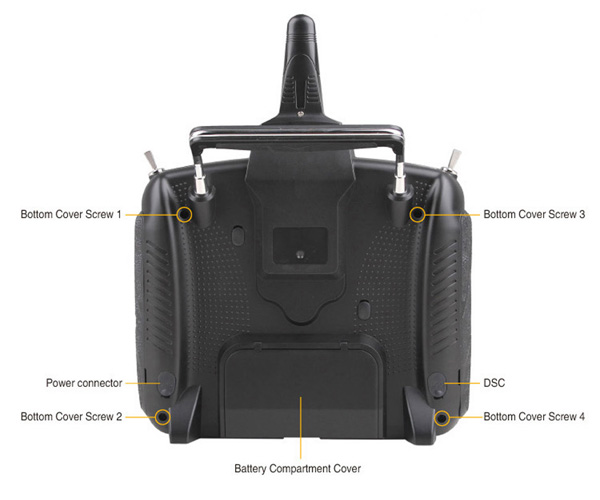 5.8GHz video receiver system
2.4G control range:
100MW, 1km, 2.4G (max. safe distance)
10MW, 300m, 2.4G (max. safe distance)
5.8G FPV Video Range:
200MW: 300m (max. safe distance)
25MW: 100m (max. safe distance)
Caution: Trees, buildings and other obstacles including people may reduce video transmission range.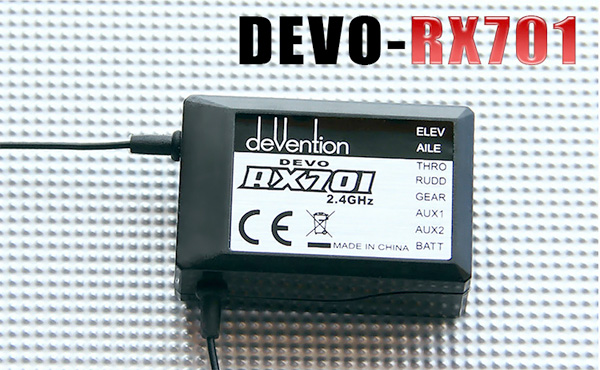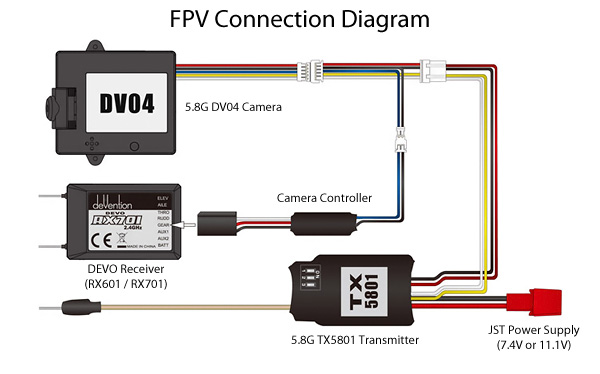 Buy it now from RC FEVER.
---