Tweet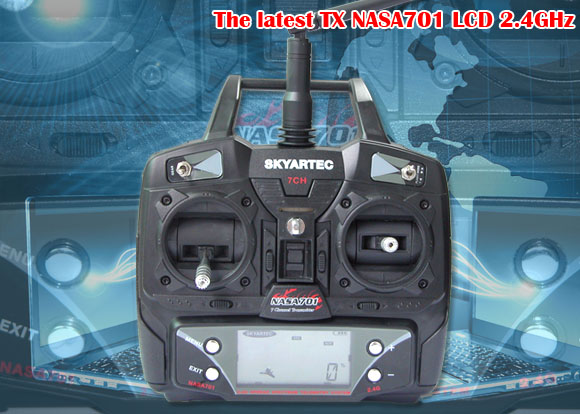 Nano CP's transmitter - NASA 701, is the latest 7CH 2.4G Transmitter from Skyartec, it is really cheap price with most of functions needed. You can use only this transmitter to play most of the Skyartec flying meachine such as Skyfun, Cessna, Mini 300, Nano CP...
[iframe src="http://player.vimeo.com/video/54357855" width="100%" height="480"]
NASA701 Features: 1. USB connected programe upgrade, keeping always the newest programe. 2. 12 Models setting documents can be stored. 3. Gyro sensitivity can be adjusted by radio control, which is convenient for hovering and fancy flying. 4. Huge LCD, display big font, more direct and convenient for setting. 5. Shape design is ergonomic, convenient and comfortable to hold. 6. The length and tightness of the rocker can be adjusted.
Buy it now from RC-FEVER
---