Tweet
Today we will introduce a new quadcopter Walkera QR Ladybird V2 with Devo4 Transmitter to you all.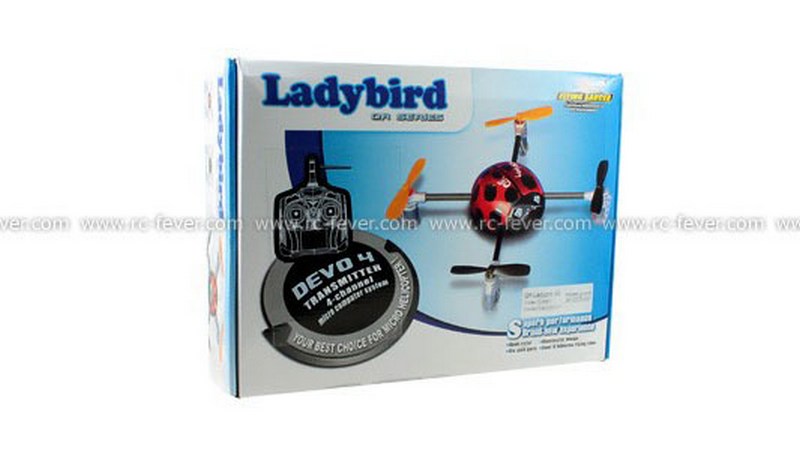 This is very similar to the Walkera Ladybird V1. However the main selling point is the price, only 51.99USD for this combo set.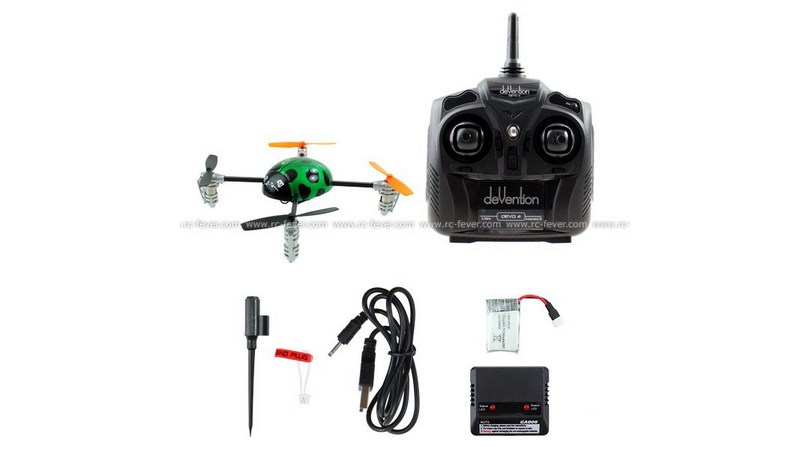 What it included? It contain the Ladybird V2, Devo4 TX, bind plug, screwdriver, charger and battery. The battery is 3.7V 240mAh, the receiver is suitable for all Walkera Devo transmitter. Have the flight time about 9 minutes.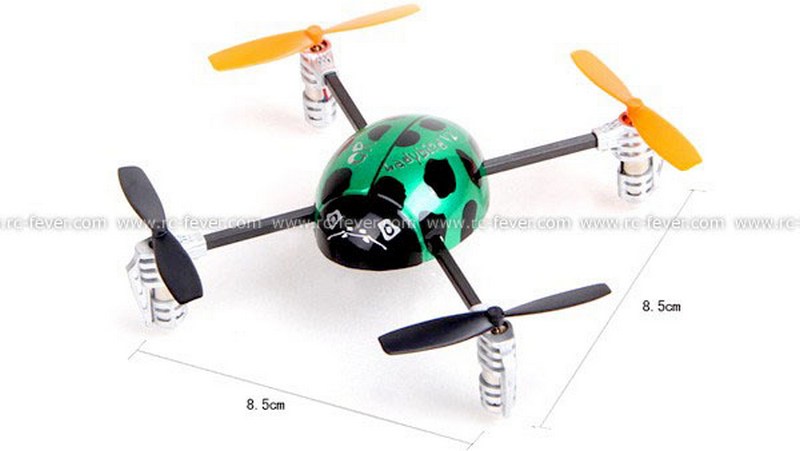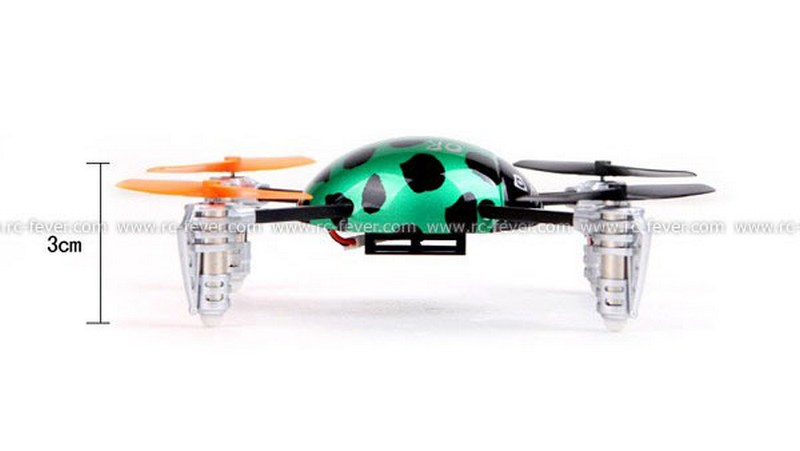 The Ladybird V2 has the same size with the V1, the main outlook different is the color of them, V2 is green in color and V1 is red in color. You may thing what is the different between them? Why V2 is just cheaper? Ladybird V1 has the two way transmitting power, that can transmitter the information such as battery voltage, temperature and speed(If you have install the module ) to the transmitter, so that user can get the real time information about the Ladybird V1. However if you don't care those information and just want to fly and have fun, Ladybird V2 is fine for you since the flying performance is the same.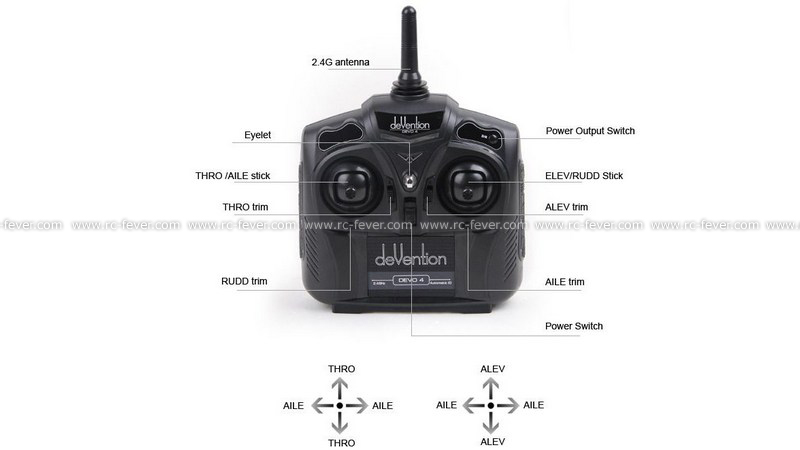 How about the new Devo4 transmitter? It has the basic function of a 4CH TX, have the direction and throttle control, their trim. It has the D/R power output switch for bonus to control the reactivity of the Ladybird to perform different play style such as rolling or stable hovering. The drawback is there is no screen for you to see the trim status and TX battery voltage.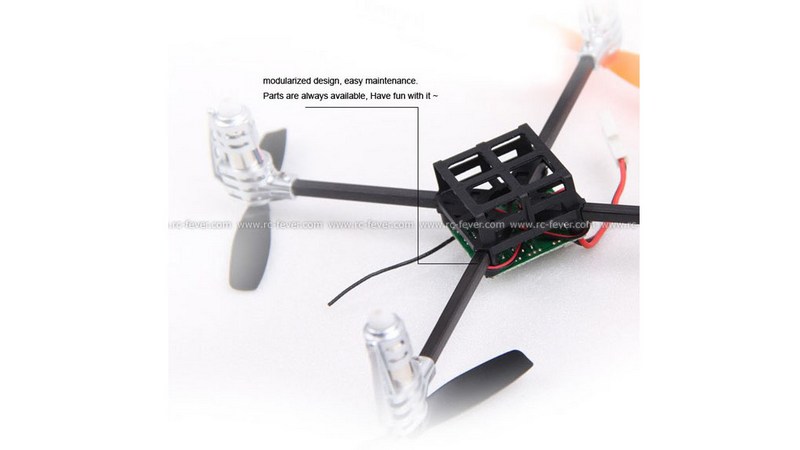 Ladybird is very durable since it still works after many crashes, very suitable for the beginner. The structure is very simply, you can see only a receiver board connecting to the 4 legs and battery, plus its backbone battery box. If you crash one of the ladybirds leg and it doesn't work anymore, you can replace the whole leg for a new one within 30 seconds, very easy for the replacement.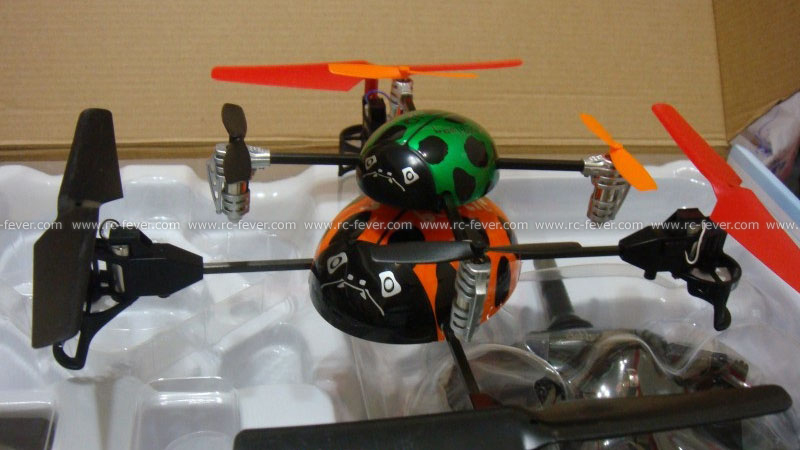 Compare to the WL V929, they have the similar price V929 cost 46.99USD. V929 is much larger than Ladybird. It is much easier for us to fly Ladybird at home. It doesn't mean Ladybird is not suitable for flying outside. The ability of wind resistant of Ladybird is a little bit higher than V929 as it has higher mass density with the powerful and mini motors.
As the Ladybird is really small, we need to take much care on the direction control. Every coin has two sides, because of its small size you can control the Ladybird to do the rolling action much more easy. Include, 51.99USD to buy a Walkera Quadcopter combo set is really worth, buy it now from RC FEVER.
---