Tweet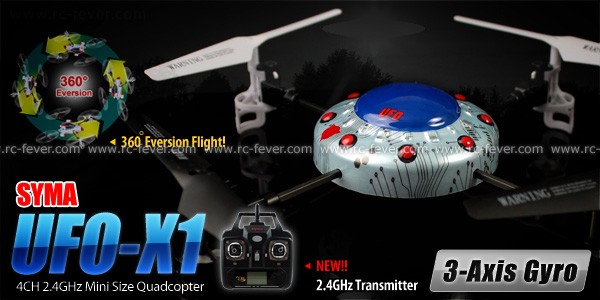 What is Quadcopter? Quadcopter is a multicopter that is lifted and propelled by four rotors. Unlike most helicopters, quadrotors generally use symmetrically pitched blades, using four motors to provide the lifing force, by controlling the speed of motor, quadcopter can fly forward and backward, upward and downward, left turn and right turn, left drift and right drift, if the rotors' speed have a big difference, quadcopter can even preform a roll action at any direction.
Syma Technology: Syma Helicopter is a brand that very wellknow worldwidth, it's S107G is a hot item even it have launch more than one year, it's main selling point is that their helicopter is very stable, for this Syma X1, even it is a quadcopter not a helicopter, it's flight also very stable.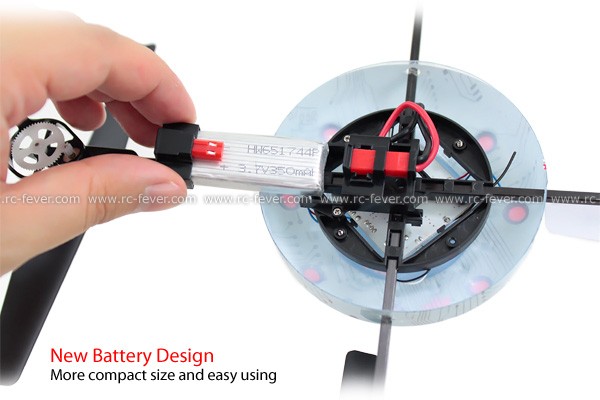 What comes with the Syma X1? The whole combo include many things, basically it have the X1 quadcopter body and transmitter, for the battery, quadcopter using the recharable 3.7V 350mAh Li-Po Battery comes with the USB charging cable, for the transmitter, you need to buy 4 AA battery since the AA batteries are not included. To prevent the accident occur, Syma X1 combo also come with 4 propellers. Of course you will have the user manual to read the detail information about Syma X1.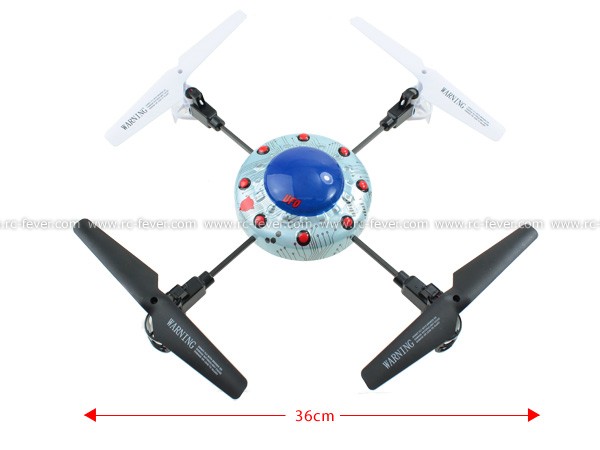 Outlook and size: Syma X1 have 3 different canopy to choose, all are completely different from each others, one looks like a UFO, one likes a spacecraft and one likes a Bee. The quadcopter diameter is 26cm and height 6cm, this size is not too small and too large, it is small enough to fly indoor. Compare with the micro quadcopter, Syma X1 is more large so the little vibration won't cause it lost control or big reaction.

Transmitter Receiver Systems: It is a 4CH Transmitter Receiver Systems. On the Receiver, it has the built-in 3-axis gyro to keep the quadcopter stable, on the transmitter, you can choose the "L" or "H" mode to set the sensitivity or you can say "speed", "L" with the lower sensitivity and lower speed but more stable, "H" mode is completely vice versa. IN additional, you can hold the right top button to perform a 360 degree roll. The 2.4Ghz transmitter signal allow us to play outdoor without the interference and the controlling distance is about 40 meters.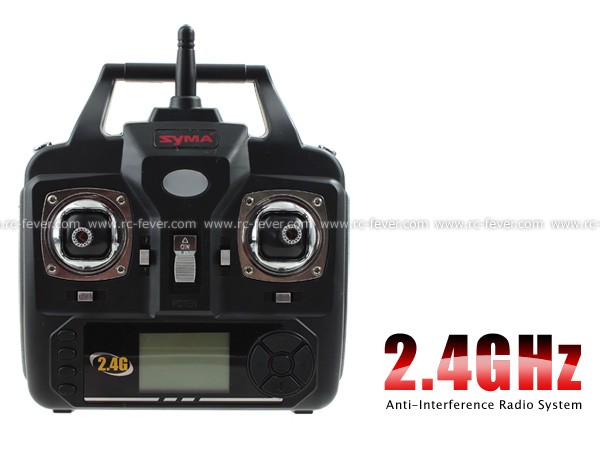 Flight experience: The flying time of Syma X1 is about 5 minutes, it needs about 40 minutes to charge it, both time are very fair for a RC toys. When I first tough this Syma X1, the first feeling is easy to control, it only takes me less than one minute to familiar all the button and sticks, and only takes me another one minute to fine trim it, as I mention before, it is the sytle of Syma. For the rolling action, there are some advice, don't roll it if Syma X1 is not above 2 meter, also do a counter action as it will move after the roll due to the inertia. To conclude, it is a good quadcopter to play at home and not easy to break, very durable.
Video:
---