Tweet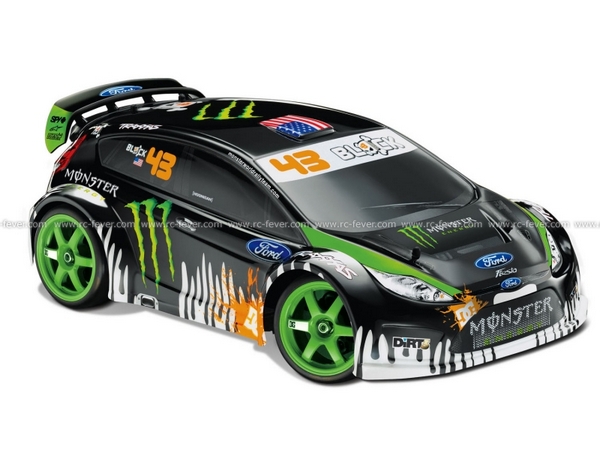 Traxxas 7309 1/16 Ken Block Gymkhana Fiesta VXL RTR W/2.4G.
Feature
NEW Officially Licensed Ford Fiesta® Body
With Ken Block Monster Energy® Graphics
NEW Officially Licensed Volk® Racing Wheels
30+mph Out Of The Box…50+mph All-Out!
Velineon® Brushless Power With VXL-3m Speed Control
Powerful Velineon 380 Motor—Largest In Its Class
Ready-To-Race® With Included Traxxas Power Cell NiMH Battery and Charger
In 2005, DC Shoes co-founder Ken Block entered his first pro rally race. At the end of the season, he was named Rally America Rookie of the Year. Today, Ken Block is one of the most recognized names in motorsports. Beyond his success in the Rally America and World Rally Championship series, Block is best known for his gymkhana skills, as over 85 million online video views will attest. In his specially-prepared Ford Fiesta Gymkhana car, Block combines laser-precise driving with tire-smoking fury to perform seemingly impossible moves. His on-road acrobatics require a vehicle that can deliver intense power through all four wheels, with the responsiveness and "feel" that only a finely tuned machine can provide. You can experience the challenge and satisfaction of executing that perfect slide between the pylons with the Traxxas radio controlled Ken Block Gymkhana Fiesta. This officially licensed special-edition race replica features the unmistakable Ken Block/Monster Energy graphics of Ken Block's full-size Ford Fiesta competition car. Beneath the bodywork, Traxxas' race-proven technology, full-time 4WD, and tire-spinning brushless horsepower thread the needle through the course with scalpel-like precision. The fun lasts for hours as you perfect the throttle and steering inputs to make each tire-blistering slide more perfect than the last.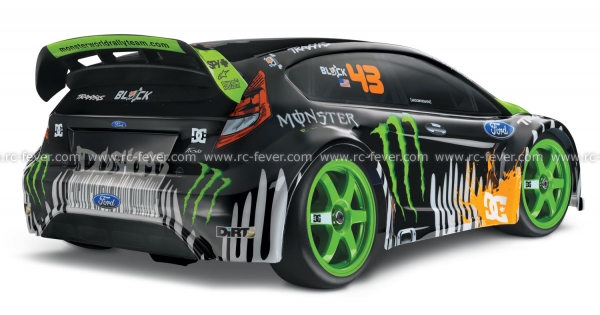 Revo Innovation, Tuned For The Street The Ken Block Gymkhana Fiesta utilizes the award-winning Revo's F-1 inspired, rocker-actuated suspension system which has been expertly engineered for 1/16 Gymkhana driving right down to the oil-filled, threaded-body GTR shocks and rally-tuned progressive-rate springs. The all-wheel drive system rides on full ball-bearings and delivers smooth, efficient power through the Torque Control slipper clutch, planetary gear differentials, and Traxxas' proven telescoping u-joint drive shafts. The suspension and driveline are fully integrated into the compact chassis. Intricately molded as a single piece, the chassis balances strength, weight, function and style in an impressive achievement of packaging and performance optimization that could only come from Traxxas.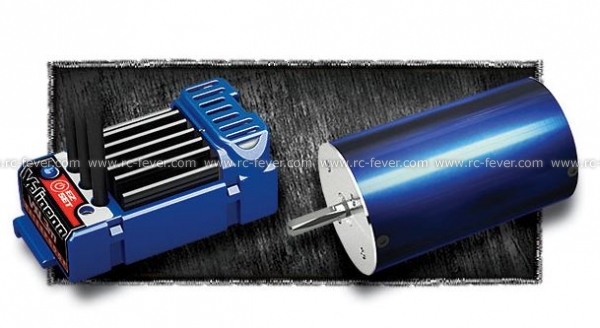 Velineon Brushless Speed and Power The Ken Block Gymkhana Fiesta's VXL-3m speed control and Velineon® 380 motor represent the latest in brushless technology and shred the competition with class-leading speed and power. Right out of the box, the Fiesta thrills with 30+mph on the included 6-cell NiMH battery. Install an optional, second 6-cell battery to unleash the Velineon Brushless Power System's full fury, and speeds jump to over 50mph with affordable, proven-safe NiMH packs. It's never been so easy to go so fast! Fully LiPo compatible with low-voltage detection for 2S and 3S packs and rated for 6-12 NiMH cells, the potent, powerful Velineon power system gives you precise throttle control and blistering top speed. Patent-pending Training Mode™ lets new drivers hone their skills at 50% throttle. This allows young or new drivers to safely develop their control skills before unleashing 50+mph speed with the touch of the EZ-Set® button. Big speed requires big horsepower, so the Gymkhana Fiesta carries the largest motor in its size category. The Velineon 380 features high-speed ball bearings, Sintered rotor, Neodymium magnets, and Gold plated 3.5mm connectors. It all adds up to 50,000 rpm of pure power and track-searing speed!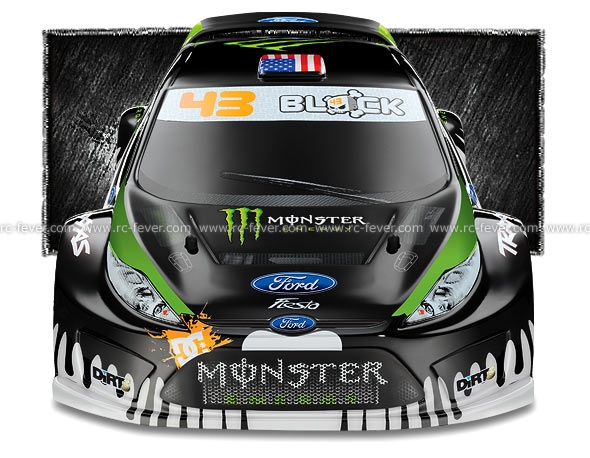 Waterproof Electronics For No-Limits R/C Excitement Just like Ken Block, the Gymkhana Fiesta doesn't slow down for rain; the waterproof servo and o-ring-sealed receiver box let you keep on racing, even in wet weather that parks lesser cars on the bench. The patent-pending sealed receiver box houses Traxxas' latest 2.4GHz Traxxas Link receiver and can accept aftermarket receivers as well, without compromising the model's waterproof properties. The new VXL-3m electronic speed control and high-torque digital micro servo are sealed against the elements to give you total driving freedom.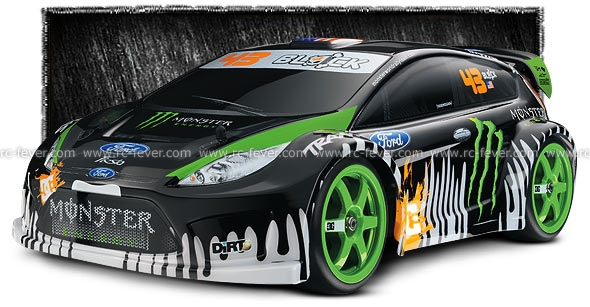 100% Ready-To-Race® The Ken Block Gymkhana Fiesta is fully assembled with TQ radio system, Velineon brushless power system, painted and decaled body, pre-glued tires, and detailed instructions. A Traxxas Power Cell NiMH battery and charger are also included, making the Gymkhana Fiesta truly Ready-To-Race. Designed specifically for the high-power needs of the Velineon brushless system, the potent Power Cell pack features heavy-duty construction, 16-gauge wires and Traxxas' exclusive High-Current Connector for efficient power transfer, run after run. Traxxas backs the Ken Block Gymkhana Fiesta and all of our products with top-notch support that is second to none. A staff of skilled representatives is on-hand to answer your questions via phone, website, or e-mail. Unmatched parts support allows your Traxxas vehicle to be serviced with parts and support from thousands of hobby dealers worldwide. Your investment is also protected by the Traxxas Lifetime Electronics Warranty. Traxxas goes the extra mile to ensure that your R/C experience is easy and fun (and fast!).
QUICK FEATURES ON KEN BLOCK GYMKHANA FIESTA (#7309)
NEW Officially Licensed Ford Fiesta body and Ken Block/Monster Energy graphics
NEW Officially licensed Volk TE37 Racing Wheels
NEW green pushrods and toe links
NEW Gymkhana-compound slick tires
Ground-breaking performance capabilities for a new kind of R/C fun and excitement!
TQ 2.4GHz Transmitter and Receiver with Traxxas Link™
Ready-To-Race® with included 6-cell NiMH Power Cell battery and charger
30+mph with included NiMH battery, 50+mph with additional NiMH battery and Traxxas speed connector (sold separately)
Revo suspension technology specially tuned for superior on-road handling and control.
Full-time 4WD
Velineon® 380 brushless motor—largest in its class
Waterproof electronics
Torque-control™ slipper clutch
Sealed differentials
Traxxas High-Current Connector
Metric hex hardware
Rubber-sealed ball bearings
---